Materials - EXOTHERMAL INSETS
THE PURPOSE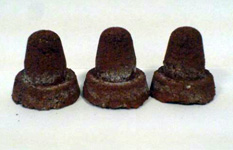 Exothermal insets TU BY 590339385.004-2008 are designed for producing steel and cast iron in gating systems with casting temperature of 14000C to 17000C. The aim of use - elimination of casting waste due to defects of shrinkage, risers specific quantity of metal reduction by 20% to 40% and respectively in-spec casting output increase. The aim is achieved by local heating of fluid metal (up to 20000C), which slows the process of melt hardening in risers part of the gating system and by creating extra gas pressure on metal in exothermal reaction zone. The shape of inset (cone passing into frustum of cone) was developed specially for using it with and automated molding.
Possible options of placing exothermal insets, heat insulators and heating elements:


For bulky castings with metal quantity of more than 500 kg, we recommend that risers be equipped by heat insulators and heating elements based on refractory heat-insulating materials in shape of bush, sleeve etc. and combined insets (with both exothermal and adiabatic effects on the casting) be used.